Ribbon, Sheers, Bows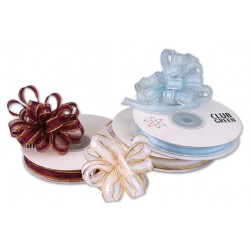 Ribbon, Bows and Sheers for your wedding, perfect accessories to compliment your favours, tables or balloons. All our items comes in many styles, shades and colours and sizes.
Ribbon, Sheers and Bows Accessories
With over 10000 ribbon combinations to choose from we can offer you, Single Colour Ribbons, Pull Bows, Wired Edge, Curling Ribbon, Decorative Ribbon, Pearls on a Reel all in different sizes, colours and styles, accessories for all types of wedding.
---
Refine Search
Showing 1 to 18 of 18 (1 Pages)